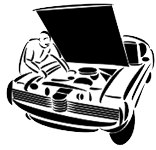 In our workshop we take care of the maintenace of cars from Fiat, Alfa Romeo, Lancia and other car brands.
We can meet any of your vehicle's needs, whether it's regular, mechanical, electrical or other damage.
Performance Upgrades
Upgrading your car means that performance and driving pleasure are improved.
Since 1976 we are preparing racing cars, participate in the racing calendar and improve conventional cars.
Dealing in the field of improvement, upgrading and remodeling, give us the pleasure to offer you a quality and secure solutions for any work you want to be done on your car.
Vehicle Inspection
Vehicle control is a process in which every part of the car is thoroughly checked and any problems are detected.
Keeping this procedure very careful, we ensure maximum safety on your journeys. This service is free to our customers!
Diagnostic Services
Diagnostic testing is an essential process for modern cars, which includes connecting the vehicle to control module.
Once connected, each parameter of the car is checked sequentially and we examinate if any damage have occurred.
If faults are found, we proceed to inform you about the problem that has arisen, and upon request to repair.
Our workshop offers this service free of charge using the most modern machinery.

Always based on the needs and special features of your vehicle, we give priority to the use of genuine spare parts as well as the repair in detail.
Happy customers are our primary goal and therefore we have affordable prices depending on the kind of repair.
---
---